Walton Executive MBA: Director's Message
Dear Prospective Walton EMBA Student,
As someone who already has experience in the business world, you have worked hard to reach the level of success you already enjoy. You have also learned that successful business leaders strive to continually improve their knowledge and to enhance their network of business resources, including learning from leaders across many industries.
The Sam M. Walton College of Business' MBA program has the solution to meet your needs with its Executive MBA program.
The Executive MBA program is specifically designed for people like you: business professionals with at least five to seven years of work experience who want to gain that extra edge found with earning an MBA.
Students in the Executive MBA program earn a Walton MBA in two years and only attend class one Saturday a month. This allows for students to commute from a multi-state region while maintaining their full-time employment.
Let's take a closer look at what makes the Walton Executive MBA program an excellent choice:
World-Class Faculty
Each member of the Walton MBA faculty team is a highly qualified individual with world-class credentials. You will be taught by faculty who have served as advisors to the European Union, published major academic works, and provided leadership on various organizational boards.
Top-Level Executive Guest Speakers
Being located in Northwest Arkansas affords the Walton Executive MBA program the unique advantage of having many Fortune 500 companies headquartered right in our own backyard. High-level executives from these companies work closely with the Walton College of Business to provide in-depth knowledge of real-life corporations through appearing as guest speakers.
Blended Delivery Program
The blended delivery program within the Executive MBA program includes classroom time and online coursework. The classroom time is limited to once a month but is enough to provide personal interaction between classmates. By limiting the classroom time to one Saturday a month, the program is also more manageable from a scheduling perspective.
Work Experience Diversity
We have found that learning from people of many different industries and backgrounds greatly enhances the overall MBA experience. The diversity in work experience throughout the Executive MBA program provides a comprehensive business perspective. Program participants often look at the same issue but approach it from different perspectives, giving each other a well-rounded, global approach to the given issue.
Application-Oriented Curriculum
At the Walton College of Business, we do not believe in filling your head with information from books and sending you back into the business world to figure out what all that information means in real-life. The curriculum in the Executive MBA program is application oriented and intensely case based. That means you will be learning about real-life situations and learning how to apply the knowledge you gain to everyday business decisions.
Sincerely,
Raja Kali
Director of Walton MBA programs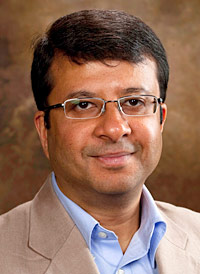 Raja Kali | Director of MBA programs
"The Executive MBA program is designed for business professionals who have demanding full time jobs, families, but nevertheless are ready for a new challenge."
---