Master of Information Systems Program
Innovative organizations place high value on cross-disciplinary leaders, and we've positioned our curriculum to meet that demand. When information technology expertise is blended with traditional business disciplines, our graduates can 'pull it all together' to make timely, informed decisions for their employers.
The Master of Information Systems is designed to provide professional preparation for positions in business and government.
Students may concentrate in one of four areas: Information Technology Management, Enterprise Resource Planning (ERP) Management, Enterprise Systems (ES) Management, or Software Engineering.
Curriculum Overview
Studying abroad as part of our "Global Technology and Analytics" course, our students gain the skills needed to manage IT with a global perspective.
Study Abroad
The job market for MIS graduates continues to be strong as the demand for combined technological expertise and managerial skills increases.
Close partnerships with our corporate partners facilitate recruiting, networking and career opportunities.
Who Hires Our Graduates?
Our students gain a competitive advantage through exposure to multiple enterprise systems platforms, coupled with large, real-world datasets.
Enterprise Systems
By The Numbers
View student data for the Full-Time MIS Program, to include acceptance rate, work experience, job placement, and top employers of our graduates.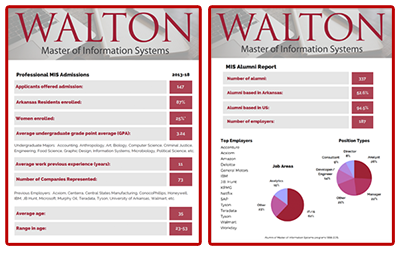 Related Degree Programs
The Professional MIS program, as apposed to the full-time MIS, can be completed in less than 2 years. Students take 6 hours each semester and meet approximately one Saturday every month.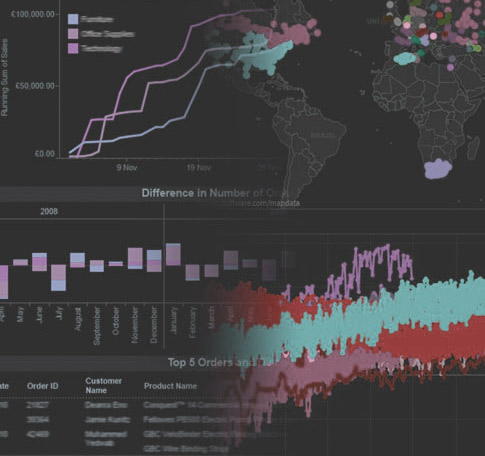 Enterprise systems platforms integrate business processes and align IT to support business strategy. Enterprise Systems at Walton College are comprised of four major hubs and support systems, along with access to large, real-world datasets:
IBM z13 Mainframe Server
Microsoft SQL Server 2016
Teradata Database Server
SAP Enterprise Resource Planning Software
SAS
Learn more about Enterprise Systems
---
Industry Job Outlook
As an MIS student, you develop leadership, communication, problem-solving, and analytical skills that are sought after by leading employers around the world.
Career Services for Walton MIS Graduates
The Walton College Career Development Center is available to assist you in developing a personalized career plan. Our team of dedicated professionals can help with career planning and development, resume preparation, interview skills, and job search strategies. Each year, more than 2,000 business-related positions are posted with the Career Center, making it the best source for information systems jobs in the region. Career fairs take place twice a year with regional and national employers participating.
Demand for MIS Professionals
Many of our graduates have gone to work for:
(partial list)
---
Many courses in the MIS program are team-taught by faculty and industry experts, combining and comparing theory with practical application in real-world scenarios. Students will develop leadership, communication, problem-solving, and analytical skills that are sought after by leading employers around the world.
Prior to beginning MIS graduate coursework, students must demonstrate proficiency in general business, statistics, and information systems by completing the "Information Systems and Business Analytics Toolkit" experience.
Program Outline
Core Courses-required for all concentrations
9 credit hours
Areas of Concentration (choose one)
15 credit hours
Enterprise Resource Planning (ERP) Management
Enterprise Systems (ES) Management
Information Technology Management
Software Engineering Management
Electives (advisor approval)
6 credit hours
For a more in-depth listing, view the academic catalog.


---
Applications for the full-time Master of Information Systems Program should be submitted by February 1st.
Prerequisites for the program include computer systems analysis and a programming language. Business foundations (accounting, economics, finance, and statistics) are also recommended.
---
New & Noteworthy