Supply Chain Management Ph.D
Supply Chain Management Ph.D
The PhD Program in Business Administration with an emphasis in Supply Chain Management prepares students for careers in research and teaching in supply chain management.
Program Outcomes
Students in the program gain knowledge in the theoretical and substantive areas of supply chain management. They acquire the conceptual skills and methodological tools necessary to design and conduct independent research and interact with others in academic and business environments. Throughout the program, the faculty works closely with doctoral students, training and mentoring them to become great scholars, educators, and colleagues.
Overview
The purpose of the PhD program in Business Administration with a Concentration in Supply Chain Management is to prepare individuals for academic careers in research, teaching, and service at universities.
Students seeking admission into the doctoral program should have the interest and commitment to pursue the knowledge and skills necessary for academic careers at leading universities and institutions.
Faculty Interaction
Using diverse research traditions including empirical (e.g., survey, secondary data) and mathematical modeling, the Supply Chain Management faculty are actively involved in research in diverse areas such as retailing, forecasting, inventory management, logistics outsourcing, and transportation management.
The faculty work closely with doctoral students, training and mentoring them to become scholars and educators. The normal program size is eight on-campus, full-time doctoral students, allowing for close interaction with the faculty and other students at various stages in the program.
Expectations
Students admitted to the doctoral program are expected to acquire:
Knowledge of the various areas of study that constitute the field of supply chain management and develop an integrative understanding of relationships among these areas
Knowledge and skills to design, conduct, execute, and evaluate research that is publishable in leading journals
A tradition of scholarship and excellence in teaching and learning.
Contact
Please direct any inquiries that are specific to the PhD program in Business Administration with a concentration in Supply Chain Management to:
Dr. John Aloysius
Professor
Oren Harris Chair in Logistics
PhD Coordinator, Dept. of Supply Chain Management
Sam M. Walton College of Business
Office: WCOB 475D
jaloysius@walton.uark.edu
---
Please direct any general inquiries about the PhD program in the Sam M. Walton College of Business to:
Graduate School of Business
Sam M. Walton College of Business
University of Arkansas
Willard J. Walker Hall 310
Fayetteville, AR 72701
(479) 575-2851 p
(479) 575-8721 f
GSB@walton.uark.edu
Admissions Requirements for PhD Programs

Applicants who wish to apply for the doctoral program with an emphasis in Supply Chain Management must submit their applications to the Graduate School of Business by December 15th.
Learn more about admissions requirements.
Selection Criteria
We welcome candidates who are strongly committed to being part of a full-time PhD program and show motivation and commitment towards meeting the requirements for our degree. We take a holistic approach in assessing candidates by taking into account their past scholastic record, letters of recommendation, test scores, prior work experience, and a statement of purpose. Prior research or teaching experience is desirable but not required. We especially encourage students to establish early contact with the PhD Program Coordinator, Dr. John Aloysius (jaloysius@walton.uark.edu), who will then work with potential applicants to assess their likely fit and work with them through their application process.
The PhD Program in Business Administration with a Supply Chain Management Concentration prepares individuals for research, teaching, service, and collegial roles in Supply Chain Management/Logistics/Transportation departments.
Course work for the PhD Program in Business Administration with a Supply Chain Management Concentration is typically completed during the first two and a half years of the four-year program. Students take a total of 14 courses and normally enroll in three courses per semester. The course work comprises of five SCM core PhD seminars, three seminars in a supporting field, and five methods classes.
SCM Core Seminars (15 hours)
Each doctoral will take five SCM Core PhD seminars.
The department offers each seminar every other year, such that students will take these seminars in the spring and fall semesters of their first and second years in the program, respectively. These seminars are designed to teach students a range of theories, concepts and research capabilities relevant to the domain of SCM.
SCM Tools (15 hours)
Depending on their interests and background, students will choose five courses from the following list:


Univariate statistics (min. 3 hours; e.g., ISYS 5203
(prior course work may be applied toward this requirement
Multivariate statistics (min. 3 hours; e.g., MKTG 6433, ISYS 5623, ISYS 5723)
Econometrics (min. 3 hours; e.g., ECON 5613/6623/6633)
Structural equation analysis (e.g., ISYS 6423)
Other (e.g., linear programming, integer programming, stochastic processes, qualitative research methods, etc.)
Supporting Fields (9 hours)
Courses for the supporting fields requirement are selected in consultation with the student's PhD Program Advisory Committee. All courses taken for the supporting fields requirement must be at the graduate level and/or taken for graduate credit. A minimum of six hours should be taken in graduate research seminars.
Typical PhD Program Structure and Timeline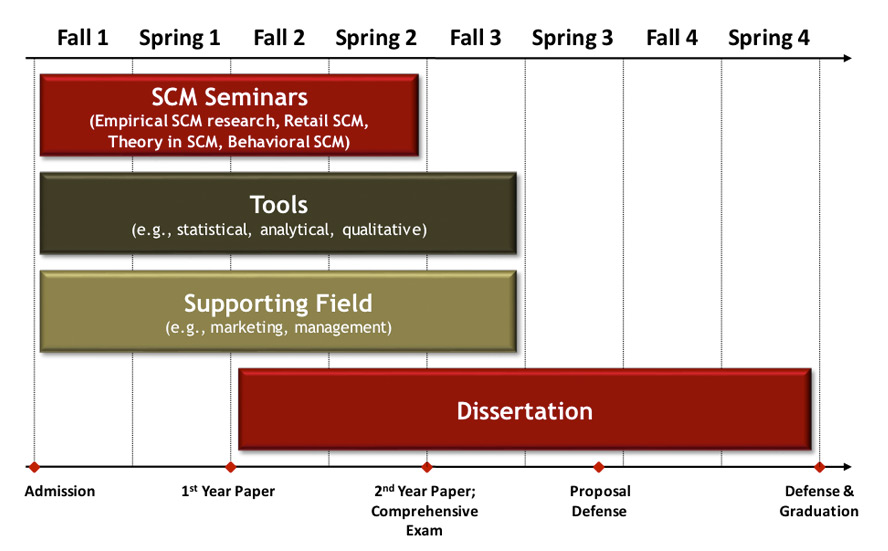 Registration
The departmental PhD program coordinator will work with each doctoral student to define a set of courses that meets the requirements outlined above as well as the student's needs and interests. To that end, each student should meet with the departmental PhD program coordinator before June 30 for registration for the fall semester, and before November 30 for registration for the spring semester (a hold will be placed on each doctoral student's account and will only be lifted after this meeting).
First and Second Year Paper Requirements
Students are expected to complete publishable research articles by the end of their first and second years, respectively. First-year papers may be co-authored with other doctoral students, but the student is expected to significantly contribute during all stages of the research process. Second-year papers should be completed by each doctoral student individually (under guidance and supervision of a faculty member). Failure to satisfactorily complete the first and second year paper requirements may result in the student's termination from the PhD program.
Annual Review
Each doctoral student is subject to an annual review to assess the student's progress and performance in the program and to discuss the student's plans for the subsequent academic year. All review forms must be submitted to the Graduate School by June 30 of each year. Hence, it is suggested that the student meet with the departmental PhD program coordinator by June 15 of each year. The departmental PhD program coordinator may also seek input from the student's adviser in completing the student's annual review.
Comprehensive Exam
Following completion of SCM core coursework, students take written and oral comprehensive exams at the end of their second year in the program.
The comprehensive exam is a closed book, closed notes exam and is taken in a timed and controlled environment. The exam consists of a set of questions developed by the SCM faculty. These questions are designed to offer the student an opportunity to display his or her knowledge of the literature, theories, concepts and tools in the domain of SCM. Particular emphasis is placed on the application of these elements to investigate a given research question. The comprehensive exam may also contain questions that are geared toward a student's particular dissertation research interests.
The oral comprehensive exam is given several weeks after the written comprehensive exam. Typically, the student will be given an opportunity to elaborate on or clarify any of his or her answers from the written comprehensive exam. In addition, the examining committee may choose to discuss any other relevant topic, including but not limited to the student's research.
Students who receive a passing grade on the comprehensive exams advance to candidacy. Students who receive a failing grade on the comprehensive exam may, with approval of the student's examining committee, retake the exam once. Failure to pass the exam after two attempts will result in the student's termination from the doctoral program.
Dissertation (18 hours)
A dissertation will be written under the guidance of Supply Chain Management faculty who will chair the student's dissertation committee. In addition to the chair, the dissertation committee will include a minimum of two additional graduate faculty members. One graduate faculty member outside the Supply Chain Management Department may be chosen for this committee depending on the dissertation topic.
Near the end of the third year in the program, students must successfully defend their dissertation proposal. Each student is required to share a written dissertation proposal no later than two weeks prior to the scheduled dissertation proposal defense. The scope of this proposal will be defined by the student's adviser and will typically include a draft of key sections, including the introduction, literature review, theory/hypothesis development and methodology sections. In the case of a multi-essay dissertation, the proposal should, at a minimum, include a detailed draft of the first essay and an outline of the other essays. The dissertation proposal defense most often consists of two parts. First, the student will give a presentation outlining his or her dissertation. This presentation is followed by Q&A and/or a discussion of the student's dissertation research. Hence, the purpose of the dissertation proposal is twofold: a) the examining committee assesses the student's research capabilities (i.e., the ability to conduct meaningful and rigorous research and to defend his or her work), and b) the examining committee will work with the student to identify potential weaknesses and areas that may need improvement. The dissertation committee will determine whether the student satisfactorily defended his or her dissertation proposal. Failure to do so may result in a second proposal defense being scheduled at a later date or in the termination of the student from the PhD program. This decision will rest with the student's dissertation committee.
The successful completion and defense of a dissertation are an integral requirement of the PhD program. During the dissertation defense, the committee members will verify that all their concerns/criticisms have been adequately addressed. The student may be asked to provide further explanation/justification on a select number of issues. In addition, the student may be asked to make some further revisions prior to submitting your final dissertation to the Graduate School. Failure to satisfactorily defend the dissertation will result in the student's termination from the PhD program.
---
Teaching

As future faculty members, doctoral students not only acquire critical research skills, but also gain teaching experience. Each student will typically teach two undergraduate classes per academic year, starting in the second year of the program. These teaching assignments are a part of the students' graduate assistantships. In their first year in the PhD program, doctoral students will attend a semester-long seminar series offered by the Walton College's Center for Teaching Effectiveness. The goal of these seminars is to give future instructors practical advice on a broad variety of teaching-related issues. The Center also offers mentoring and coaching services to first-time student teachers.
Support

Students in the program are supported financially with tuition waivers and nationally competitive stipends (i.e., graduate assistantships) for four full years (up to $39,800 per year for outstanding candidates), assuming satisfactory progress in the program. The department, college, and university also provide a broad range of support for doctoral student research. For example, doctoral students are funded to attend major domestic and international conferences to present research papers.
Faculty are integrally involved with doctoral students on research targeted for publication in major journals. Recent articles coauthored by Supply Chain Management faculty and doctoral students have appeared in the Journal of Business Logistics, Journal of Retailing, Journal of the Academy of Marketing Science, Transportation Journal, and other top-tier academic journals.
---